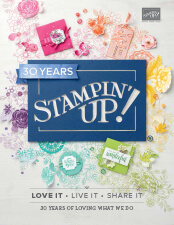 Well, it's here, hooray! The new annual catalogue is live.
Click the image above to go to the PDF version.
If you live in the UK, France, Germany, Austria or the Netherlands and you'd like an English version of the catalogue (and you don't already have a demo), please contact me and I'll get one in the post to you.
Stampin' Up! have released several videos to showcase some of their new sets. Here's one of my favourites, Rooted In Nature. Love it – and if you like Lovely As a Tree you'll find it compliments it so well.
If you have any questions about the new catalogue, or think now might be a good time to join Stampin' Up! get in contact. Don't forget that you'll get discount on everything you buy, and although there is a quarterly minimum to meet, there's no pressure if you want to stay as a hobby demo.
I'll be back soon with some more new products.
Let me know what you think of the new catalogue.